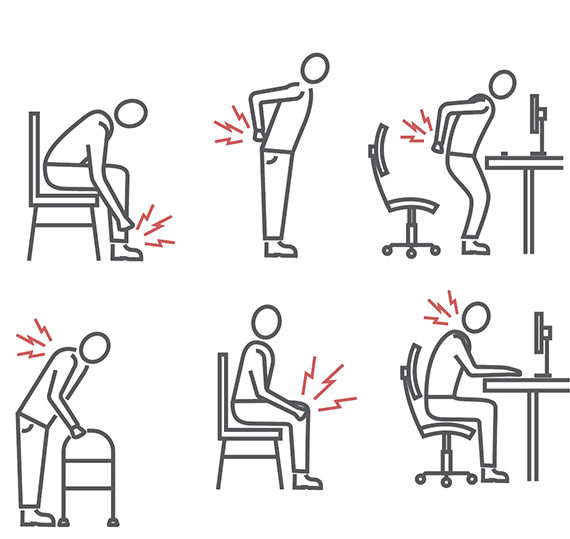 Rheumatism, Knee and Joint pain! How to ease the discomfort?
Arthritis is a very common chronic disease which causes pain and discomfort at joint areas. The commonly affected joints are mostly larger joints such as knees, ankles, shoulders, elbows, and wrists and over time it can affect one joint to another.  
How should we protect ourselves from rheumatism/arthritis? And what types of supplements can protect your joints? 
Many have associated collagen with skin and beauty. In fact, in addition to its benefits to our skin, collagen is very important to all parts of our body. It is an important structural building blocks for bones, muscles, tendons, cartilage, ligaments, teeth and many more. In order to maintain and take good care of your bone and joint health, it is vital to consume a sufficient amount of collagen! 
Why does everyone try Recogen®?
A third generation joint care and relief for Arthritis
It protects and repairs cartilage while providing pain soothing effects.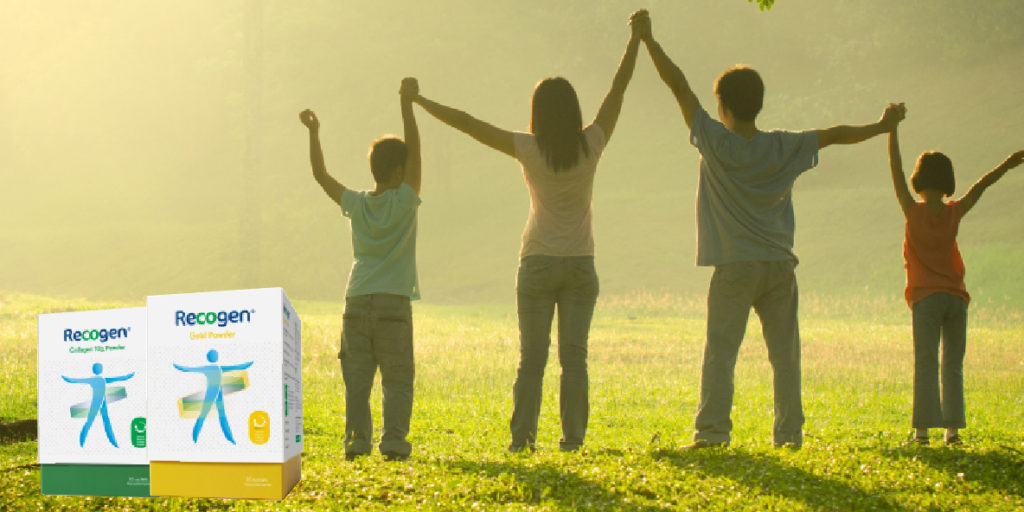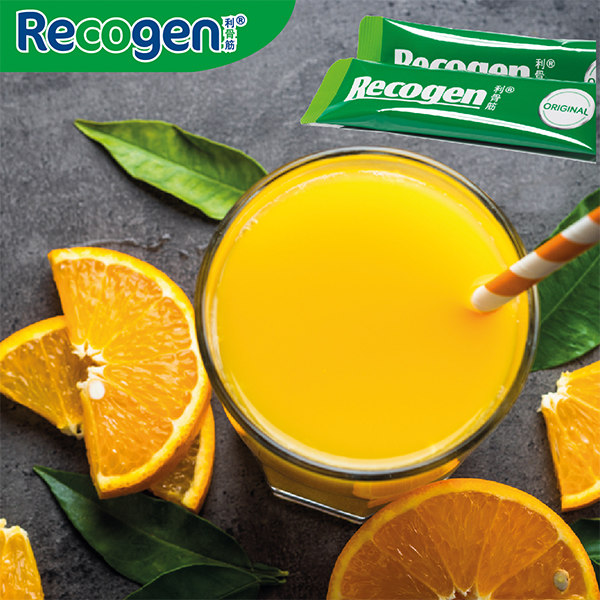 (Recogen® + Orange juice/ Fruit juice)
Recogen® maintains joint health ,Keeps you Moving
(Registered product with the Ministry of Health Malaysia)
Why should you take Recogen®?
Movements and daily activities adds pressure to our joints. It can easily causes damage to our joints and the cartilage. This will gradually lead to degenerate or disappearance of cartilage cells.
As we age, our bodies reproduce cartilage at a very slow pace. The insufficient cartilage regeneration causes thinning of cartilage around the joint area. The high-quality amino acid components of Bioactive Collagen Peptides (BCP) helps in the production of collagen type II (cartilage), that assists in the regeneration of cartilage in our joints. [/vc_column_text][vc_empty_space height="50px"][vc_column_text]Many facial masks and oral beauty products emphasize the collagen content that brightens the skin. It can slow down skin aging, enhance skin elasticity and skin complexion. However, many people did not know that, in addition to these beauty benefits, bioactive collagen peptides are also very helpful in repairing articular cartilage.
Three main

 benefits of

Recogen

®

 
1. Ultra-low molecular weight
The molecular weight of Recogen® is within 3,000 – 6,000 Daltons. Whereas the molecular weight of most glucosamine products is around 16,000 daltons. This is why the effectiveness and absorption rate of Recogen® is better than some Glucosamine products. 
2. Easily absorbed by the body to targeted joints
Recogen®'s  short-chain protein molecules are enzymatic hydrolysed. It helps boost absorption rate at the affected joint areas.
3. Backed with 30 years of clinical trial reports
The beneficial effects of biologically active collagen peptides have been discovered since the 12th century. From 1098 to 1179, Saint Hildegard of Bingen discovered for the first time that drinking veal cartilage broth has a significant effect on joints.
Recogen

®'s safety promise
1. Recogen® is a nutritional natural food supplement. Recogen® is 100% pure biologically active collagen peptide, which has not undergone genetic modification production process (Non-GMO). It is sourced from safe and clean raw materials that does not cause bovine spongiform encephalopathy (a cause of mad cow disease).
2. Recogen® has no side effects and has more than 30 years of clinical trials to prove its effectiveness. Recogen® is suitable for regular consumption.
3. Recogen® does not contain preservatives and any artificial additives. The United States Food and Drug Administration (FDA) recognizes bioactive collagen peptides as GRAS (Generally Recognized as Safe Food) in 1999. In Europe (EU), bioactive collagen peptides are approved food additives.
4. It has been recognized by the World Health Organization for its efficacy in protecting and maintaining healthy joints.
5. Recogen® has the HALAL certificate issued by the Islamic Council of Singapore.
6. Recogen® products are certified by the Malaysian Ministry of Health.
Customer Testimonials
Abdul Malik. Mo. Afan, 57 years old 
My joints and knees have been degenerating and painful for a long time. The doctor's MRI examination showed that the joints were aging, which required glucosamine and physical therapy. However, after several months of treatment, there is still no improvement! A friend introduced me to consume "Recogen® " products. I found that after taking Recogen Gold for 2 weeks, the pain, burning sensation and swelling that I usually had when riding a bicycle gradually disappeared. I can even ride longer distances without pain. I recommended "Recogen® " to my sisters. I hope they can also take this product to improve joint degeneration and pain problems! 
Soh Moi Moi, 66 years old 
I started taking "Recogen® " more than a year ago! In the past, crutches were needed to walk, but now I no longer need to rely on crutches or umbrellas to walk more easily. The problem of sore feet is not so serious anymore. I consume "Recogen® " every day, and also introduced it to my friends to try. Everyone said it worked well after consuming it! Thank you "Recogen®"! 
Loh Chen Boon, 63 years old 
I couldn't squat on my knees for a long period of time. Sometimes when getting off the car, I  need to raise my foot first to get off the car smoothly. I have also been to the doctor's for diagnosis, injections, and medication. Still not getting better. Until an old classmate introduced me to "Recogen® ", I bought a strengthened type Recogen® to try. After eating for 2 months, I found that my problem of not being able to squat down gradually improved. I continue to take it for health care, and now I can squat up and down freely. There is no pain. Thank you Recogen®  for solving my long-term troubles! 
—– END  —–