Recogen Calcium Plus Powder
Introducing the first 2 in 1 joint supplement product in the Malaysian market which combines both Collagen Peptides and Calcium in a convenient sachet for your daily consumption- Recogen Calcium Plus Powder.
Recogen Calcium Plus Powder is formulated with pure Bioactive Collagen Peptides sourced from safe bovine sources and plant-based Calcium Lactate derived from Beetroot. Perfect for those who wish to consume collagen for joint maintenance and calcium to maintain healthy bones.
1g Water Soluble Calcium Lactate from Beetroot in each sachet
It uniquely combines Calcium Lactate derived from Beetroot and is very water-soluble, allowing it to be easily digested and absorbed by the body.
Also, not to forget, Recogen's Bioactive Collagen Peptides has low molecular weight (about 3,000 daltons) and shorter peptide chains which works 15x faster than any ordinary collagen to enhance recovery actions.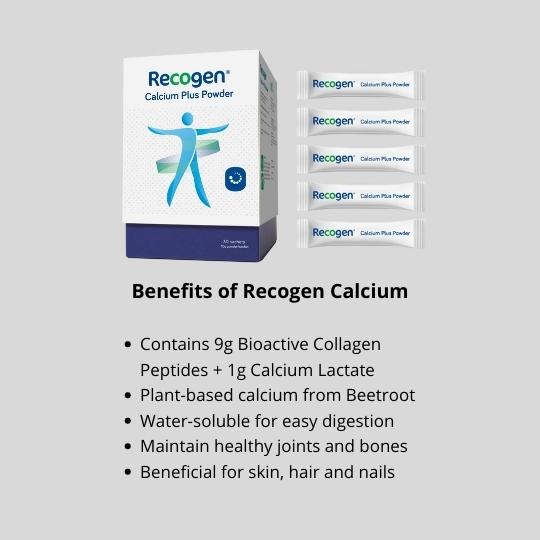 Why is Calcium and Collagen important to our body?
A synergistic action for healthy bones and joints
Calcium is one of the most important minerals required in our body. Our body needs calcium to build and maintain strong bones and teeth. As well as to regulate healthy brain and body function and to maintain good muscle movements.
On the other hand, Collagen is the main building block of our body tissues, skin, tendons, muscles and cartilage. With the effects of aging, the collagen in our body will start to gradually deplete and the collagen production rate will start to slow down, which may lead one to experience degeneration of the joints and cartilage (osteoarthritis). Not just for maintaining healthy joint health, collagen also plays an important role for the absorption of calcium in our body.
All in all, both Calcium and Collagen work hand in hand to maintain and protect our joint and bones, so it is important not neglect either one of them!
Tips on how to consume Recogen Calcium Plus Powder
One sachet daily for healthy bones and joints
Recogen Calcium Plus Powder is very soluble in water allowing it to dissolve easily into your favorite beverages whether warm or cold. Best to consume before breakfast.
Dissolve Recogen into plain drinking water or desired beverages (Except hot drinks, coffee and tea).